Step by step guide for installing Active Directory on Windows Server 2012
Installing Active Directory Domain Services(AD DS) on Windows Server 2012 is different from it's predecessor operating systems. Till Windows 2008, we used the most famous dcpromo to install Domain Controller and demote them. Things have changed from Windows Server 2012, and you will notice a message like below when you attempt to run dcpromo.
The message from above box is very clear that dcpromo can not be used any more for Active Directory instillation and it has to be done through Server Manager in Windows Server 2012.
Starting from Windows Server 2012, Microsoft not only changed the way you start the Domain Controller installation but also the procedure. In Windows Server 2012, the procedure to install active directory is Divided into two major steps.
Installing Active Directory Domain Services(AD DS) Role
Configuring Active Directory
These two steps can be performed either user Server Manager(Wizard Based) or using Powershell commands. I also want to note that you promote any Windows Server 2012 on network remotely using server manager or powershell.
In this post, I will talk about installing Active Directory Domain Services using Wizard based method from Server Manager. Now let us move on and see how it works.
1. Installing Active Directory Domain Services(AD DS) Role
Like any other Role installation in Windows Server 2012, AD DS role also has to be installed using the same procedure using Server Manager. The below procedure
In Server Manager, click Manage and click Add Roles and Features to start the Add Roles Wizard.
On the Before you begin page, click Next.
On the Select installation type page, click Role-based or feature-based installation and then click Next.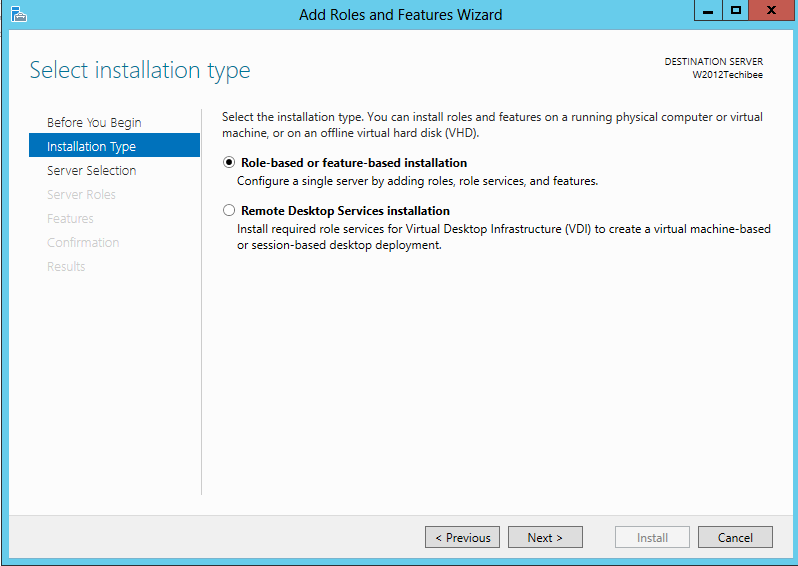 On the Select destination server page, click Select a server from the server pool, click the name of the server where you want to install AD DS and then click Next.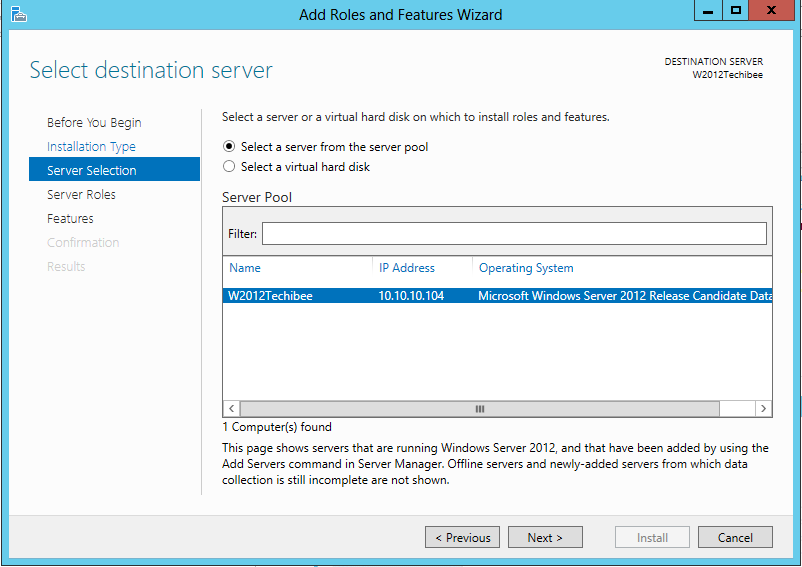 NOTE: To select remote servers, first create a server pool and add the remote servers to it. For more information about creating server pools, see Add Servers to Server Manager.
On the Select server roles page, click Active Directory Domain Services, then on the Add Roles and Features Wizard dialog box, click Add Features, and then click Next. Don't worry about any dependent components installation. The installation will take care of it.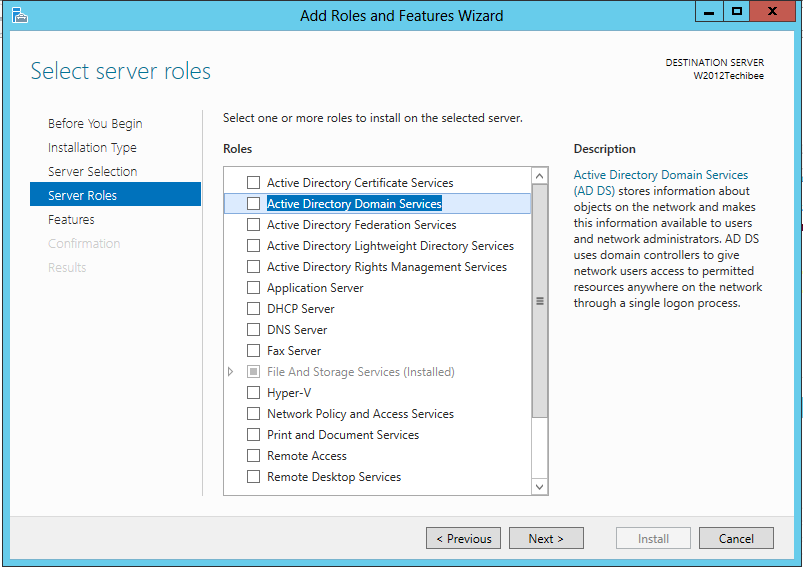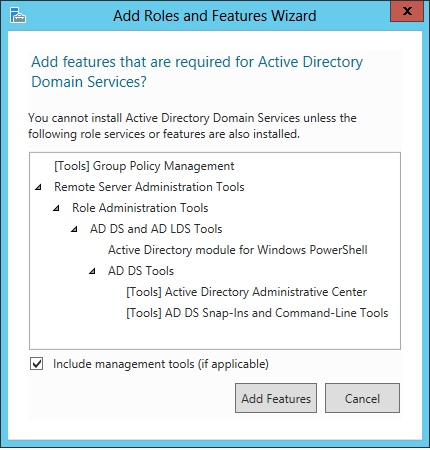 On the Select features page, click Next as we are not interested in installing any feature right now.
On the Active Directory Domain Services page, review the information and then click Next.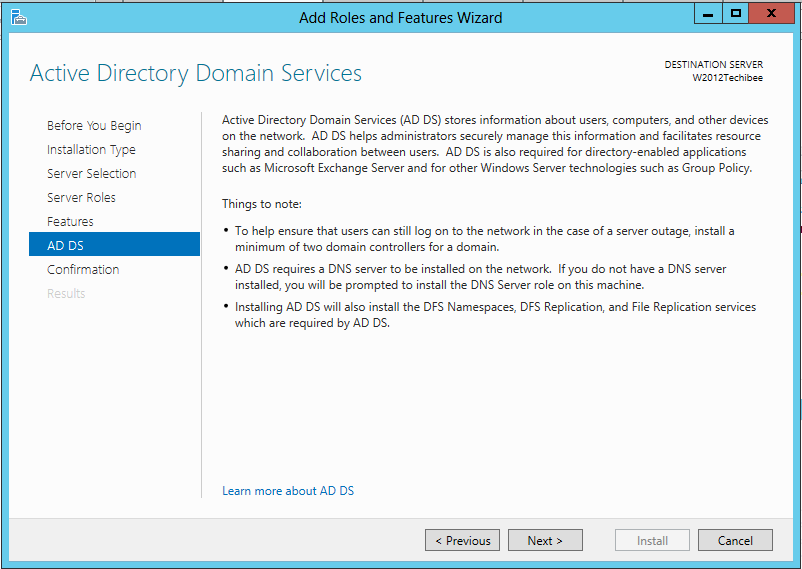 On the Confirm installation selections page, click Install. You can optionally select Restart the destination server automatically if required option if you want the installation to take care of rebooting automatically. I think better we select it.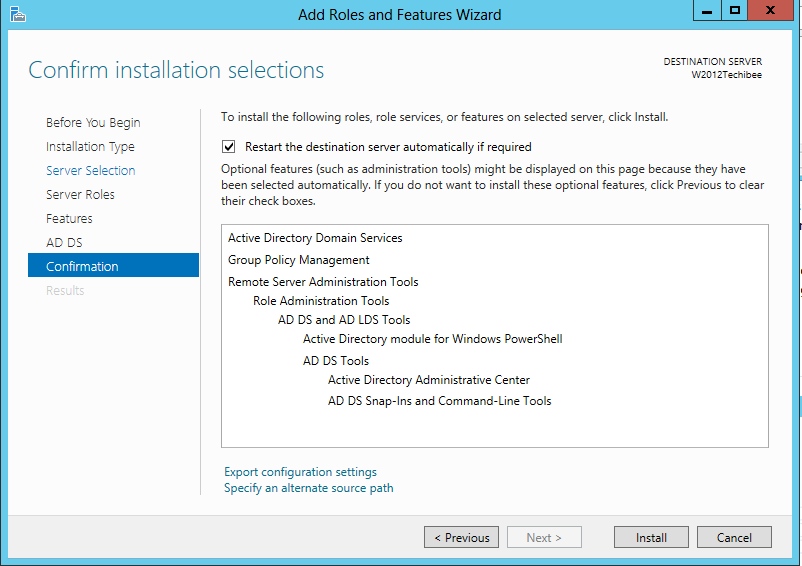 On the Results page, verify that the installation succeeded. You either do the configuration from this window or through AD DS option that you see from Server Manager if you want to configure later. This I will talk about in next section.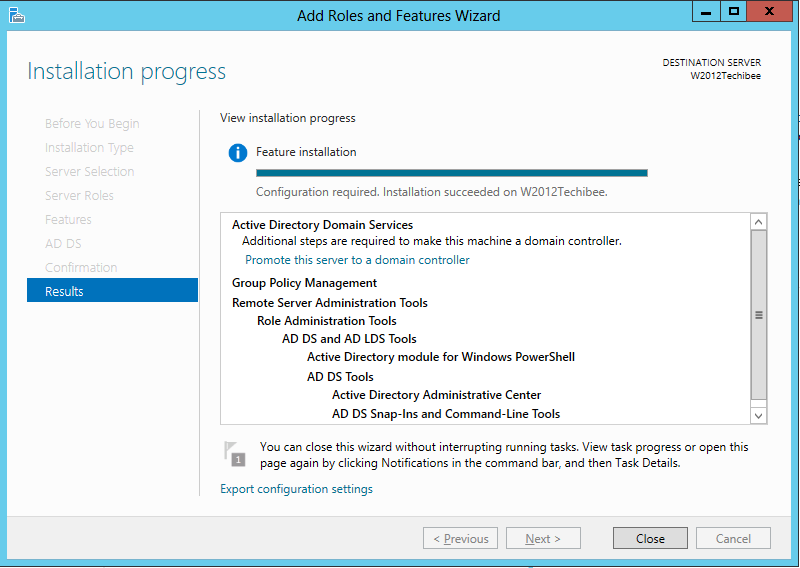 This completes the AD DS role installation part.
2. Configuring Active Directory
In this section of the article I will talk about how to configure the installed Active Directory Domain Services role to install a first domain controller in a new forest.
If you happen to close the Installation results wizard in Installing Active Directory Roles section above, go to Server Manager and navigate to AD DS section to configure the AD DS role. There click on More option of the yellow flag asking you configure the AD DS role. After that you will see a Task details and Notifications page and you can initiate Promotion of the server to Domain controller form there. You will see a Deployment configuration page given in next step.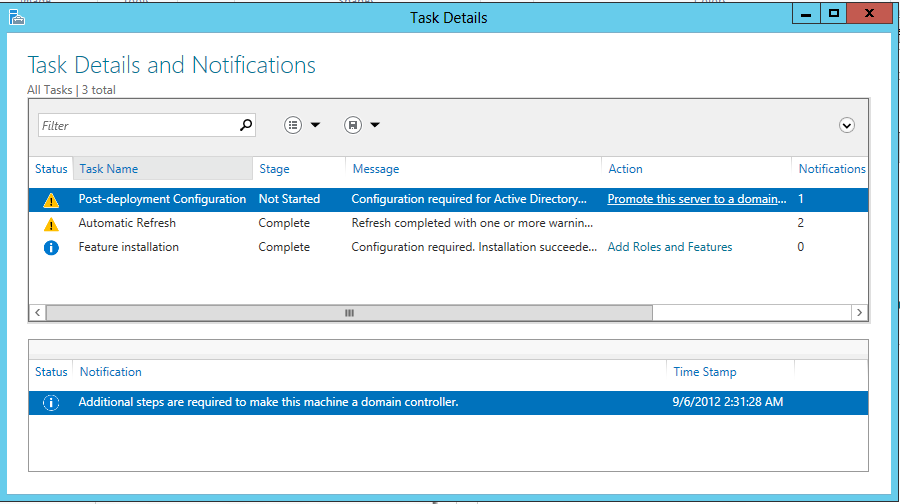 If you have launched Promote this server to Domain Controller option from last page of installation wizard, you will see the below window. Here you select the type of your deployment. In my case, it is a new DC installation in a few forest. You also need to enter a name for the new forest in Root Domain Name box. Click Next once you are done.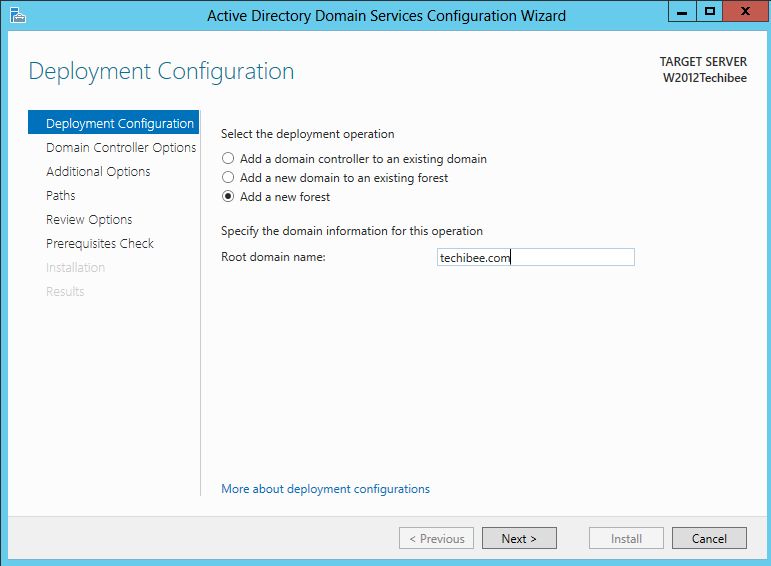 On Domain Controller Option page, enter a password for Directory Services Recovery Mode and adjust the Forest and Domain functional levels as you need. Click Next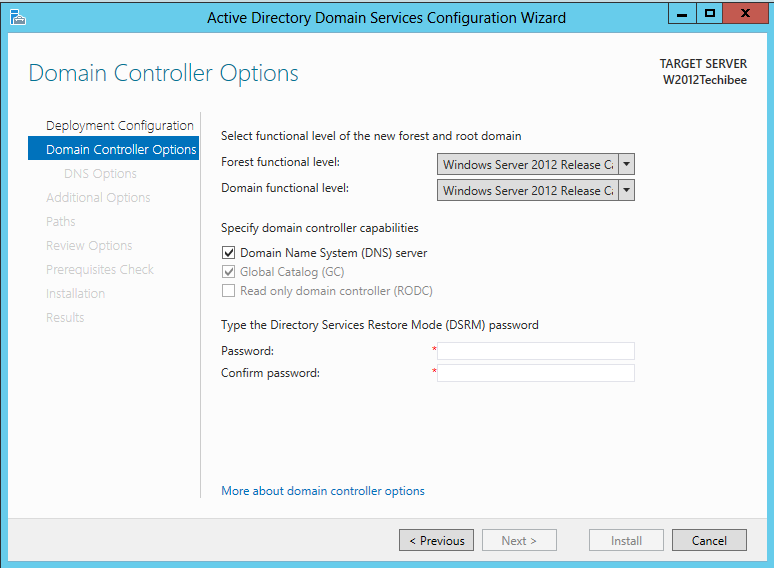 Click Next on DNS Options page.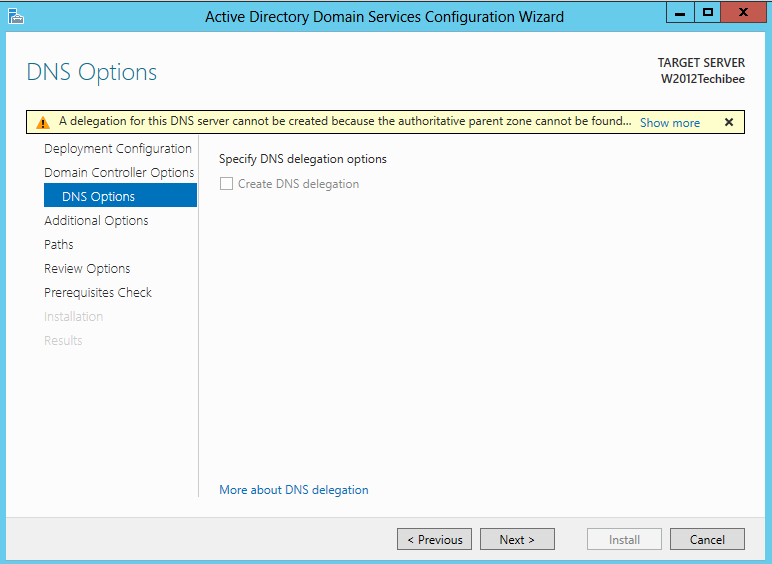 On Additional Options page, enter a NetBIOS name for your domain.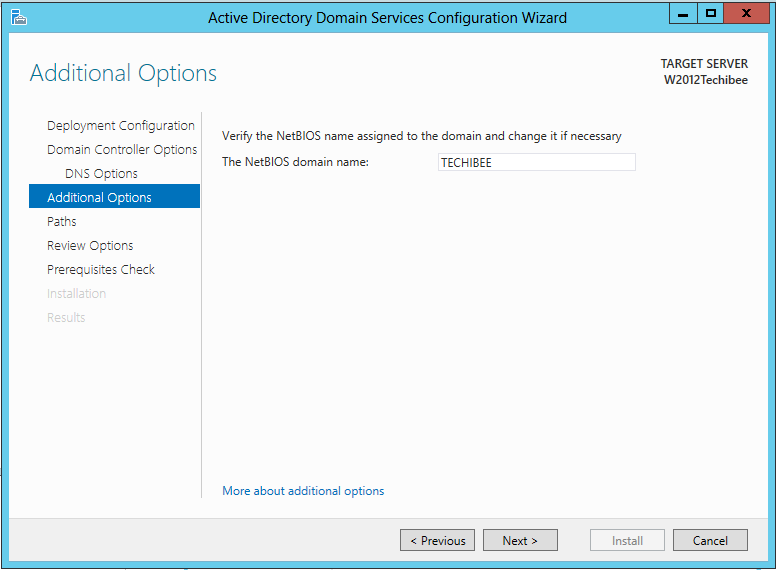 Leave defaults on Paths page unless you want to change the path of database and log files of active directory.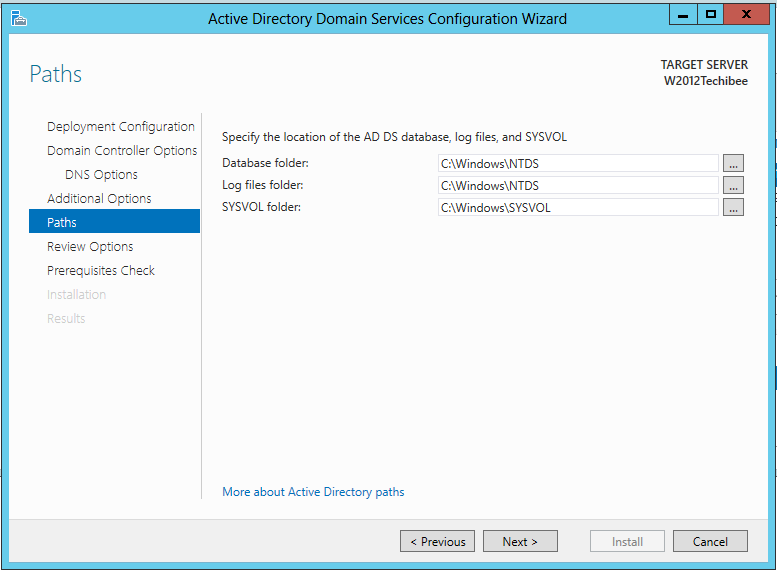 On the Review options page just cross verify that you have given all inputs correctly. One interesting option you might want to check here is View script. That will show the Powershell command that wizard is using in background to configure the active directory role.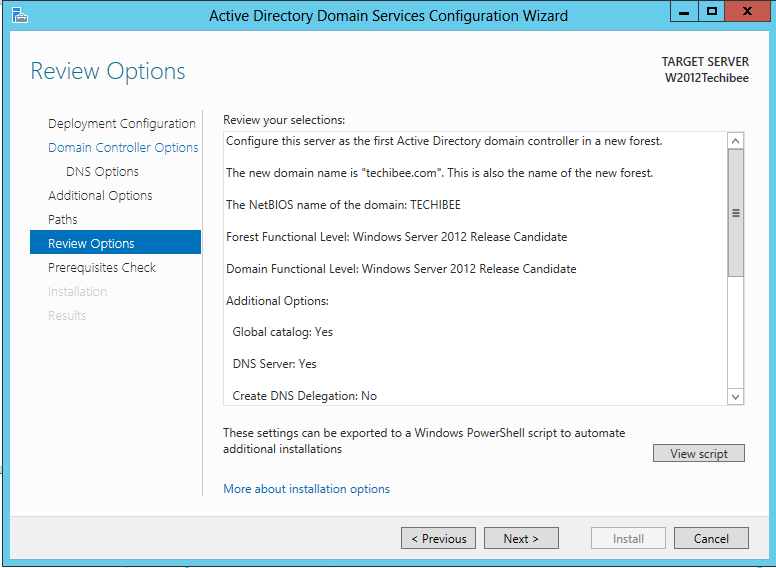 On Prerequisites Check page resolve it it reports any issues. Otherwise just click on Next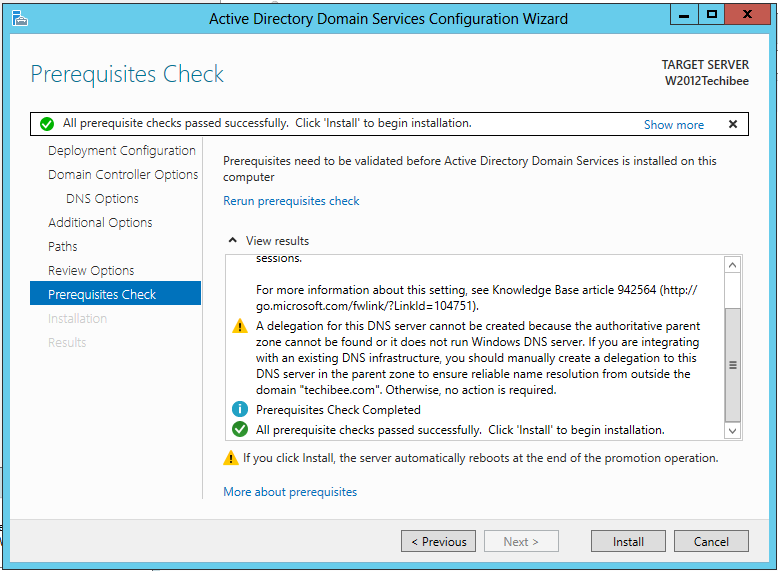 The Installation will take some time and reboot the server as needed. Once it is back online, you have Active Directory Domain Services ready on a windows 2012 box.
This completes the installation and configuration of Active Directory Domain Services (AD DS) on a windows Server 2012 operating system. Hope you enjoyed reading this step-by-step article. Feel free to drop a note in comments section if you have any questions or need some details.