Windows needs to download and install a software driver from the \<servername> computer print to <printer-name>. Proceed only if you trust the \<servername> compuer and the network.
You might see above message with "UAC" prompt

 to install drivers while adding network printers from a windows 7 computer. This behavior is expected as normal users are not allowed to add network printers(drivers installation requires admin rights) in a Windows 7 environment.
To fix this, you need to enable below group policies with described settings.
Computer Configuration -> Administrative Templates -> Printers -> Point and Print Restrictions and it's settings should look like below.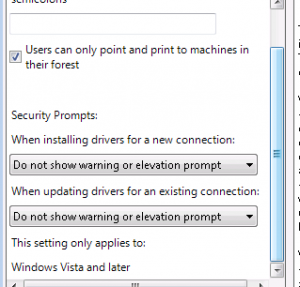 Before reaching this policy setting, I have gone through the options to allow device and class ID/GUIDs through GPOs(click here for details) but in vain as they are not fully developed for printers.
Happy learning..,
Sitaram Pamarthi