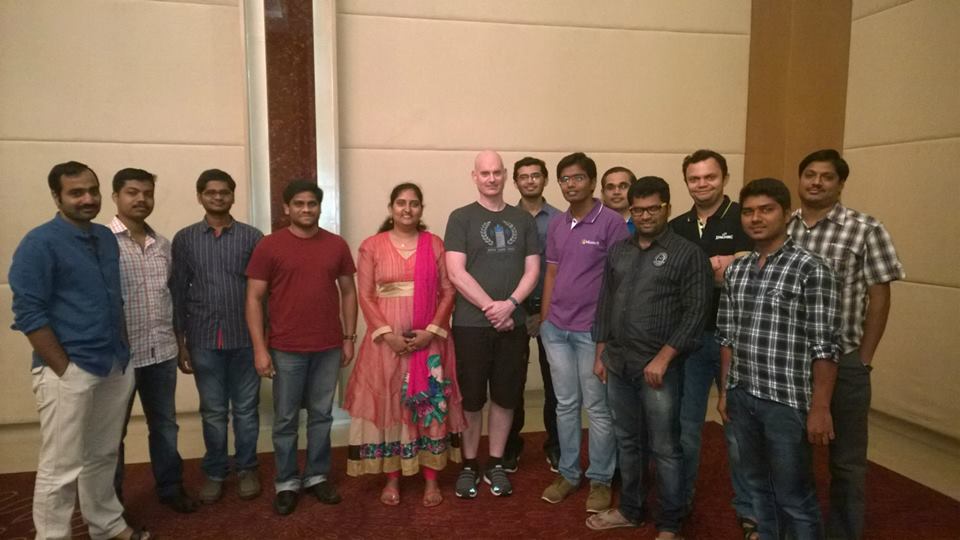 Being a Hyderabadi, I am very excited to see Hyderabad PowerShell User group (PSHUG) taking a shape. Last Saturday (28-June-2014), we have our first Hyderabad PowerShell User Group inaugural meet. The best thing about the meet is having Bruce Payette on floor. He is one of the Principal developers in PowerShell team at Microsoft and author of most famous book "PowerShell In Action". Everyone felt honoured to have him in the room and listening to him talking about PowerShell stuff.
It is a great start. I personally felt very happy attending this meet and interacting with the people, especially with Bruce. He is quite fast with word rate, so you need to pay full attention while listening to him. The session from Bruce about history and future of PowerShell is very informative. I also had a chance to talk about my experience with PowerShell, how I started learning and improving my skill.
Having regular sessions like this will motivate the individuals and increase the usage of PowerShell. Though the attendance is a bit on lower side for this event, I am sure the next events will be crowded and much more interactive.
Harshul Patel is the man behind this. Though he joined Microsoft a few weeks back, he make everything happen right from inviting Bruce, arranging the venue and organizing the whole event. Thanks Harshul for interest and commitment towards the event. Wish to see to much more coming in future. Btw, I liked your Book, Instant Windows PowerShell Guide.
Special thanks to Bruce Payette for his presence and session.