This post will talk about GFI cloud based Windows Servers monitoring platform (Network server monitor online– NSMO) for small sized organizations.
Trust me, System administrators job never has 9 to 6 working hours. Someone might call you during midnight to complain about their mailbox inaccessibility or over a weekend to report a server unavailability. That is the reason most System administrators end up with 24X7 working hours and keep checking their cell phone of any missed calls. This situation can be improved if your organization has proper monitoring in place which alerts you over email/SMS when a something goes wrong with the infrastructure. This post is exactly for such windows administrators who want to get alerted about any IT infrastructure outages like server going down, service going down, disk space issues, etc.; so that you can fix them well ahead of time before any of the users reporting the issue.
I came across a cloud based monitoring solution named Network Server Monitor (NSMO) from GFI Software(www.gficloud.com/nsmo) which can help you get alerted about any IT outages. The very good thing about this monitoring system is, it is cloud based. That means, monitoring is provided as service and you don't need to worry about managing/supporting this monitoring system.
Pros:
Using GFI cloud based monitoring you can monitor following components of your windows servers

Service running status
Free disk space
Backup completion status
Antivirus updates status
Critical Windows Event log errors
Server availability/reachability
Disk performance/health

When any failure is noticed, it can alert you by email or SMS or both
It has provision to restart a service when it is down and configuration options available to send alert after x failed attempts to rectify the problem.
 A dashboard available to give a quick view of your IT infrastructure health status.
The monitoring dashboard is web based that means you can access it from your PC, mobile, tablet, etc
You can reboot the servers remotely from dashboard if you notice any issues with them. No need to reach office during weekends just for rebooting the servers.
Easy setup, installation and configuration
Low licensing cost( I read that it is $12 per server, per year, per service)
Cons:
Cannot perform custom actions like executing commands or scripts on the servers remotely
No other checks are possible apart from the ones given in Pros section
No trend analysis and report generation about alerts is possible
Need to install GFI cloud agent on your servers to start monitoring them. No use of native interfaces like WMI, WINRM and other windows APIs.
Not a good solution if your IT infrastructure is BIG and you have custom monitoring requirements.
It cannot monitor other network devices like printers and scanners.
It cannot monitor network devices.
No remote control is possible.
Dashboard: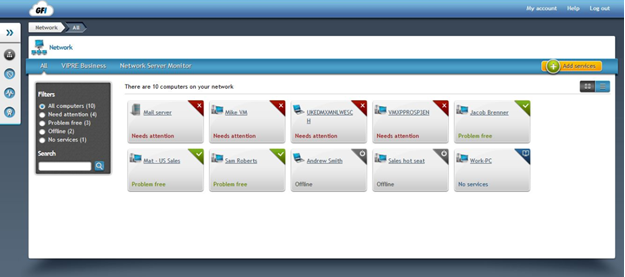 References:
Home Page: http://www.gficloud.com/nsmo
Features and benefits: http://www.gficloud.com/nsmo-features-and-benefits
Documentation and further reading: http://www.gficloud.com/nsmo-resources#nsmo
Conclusion:
I feel this is a very good service for small organizations where the no. of servers are <20 and monitoring requirements are simple. It gives the flexibility to System administrators to monitor their infrastructure from anywhere in the world through web. It sends real time alerts about any outages so that System administrators can act before someone reports the problem during midnights.
Disclaimer:
The thoughts expressed in this post are completely my personal views. The content provided here is just for information purpose only and I am not responsible in any way for any misbehaviors of the product. I request you to perform complete evolution of the product before you take a call about purchase/implementation.